As 2019 comes to end we'd like to publish some statistics based on real numbers we've gathered in last year. Hundreds of Removal Quotes submitted to our website gives us quite a clear picture of where and how people relocate. MyCheapRemovals is registered in the UK, therefore, we will focus on international removals from the UK to Europe and from all European countries to the United Kingdom.
Moving to and from the UK in numbers.
According to removal quotes requests we received in last year, 66.1% removals quotes requests were FROM UK.
Most popular European countries to move:
Spain
How about regions in those countries? In the case of Spain, 43% of removal quotes was to Alicante. Second most popular relocation destination in Spain was Madrid – 13.5%. The third choice was Barcelona with 12% of total quotes from The UK to Spain. Rest percentage was shared between Balearic Islands, Málaga, Murcia, Alacant, Valencia and Granada.
Germany
People who were looking for cheap removals from the UK to Germany were most interested in moving to Berlin – 40%. Upper Bavaria as a destination was in the second position with 14% of requests. Worth mentioning is Darmstadt with 7.5%.  Other German cities and regions our visitors were looking for were Düsseldorf, Cologne, Lower Franconia, Dresden and Arnsberg.
Portugal
We have some interesting details about destinations for removals from the UK to Portugal. Looking at the numbers we can clearly see there is no specific destination one could say is the destination for people who considering relocation from the UK to Portugal. Obvious destination is Lisbon as the most populated city in Portugal, however, only 20% quotes were to this place. Other popular destinations in Portugal were Mangualde, Matosinhos, Albufeira, Braga, São Brás de Alportel and  Alencarce de Cima, Soure.
France
We can see very similar situation in the case of relocations to France from the UK. There is no one definitive location that is significantly more popular than any other place except Paris – which is quite obvious due to the size of this city – but still less than 10% of total quotes. Our customers were looking for removal quotes such places as Nîmes, Marseille, Montpellier, Cannes, Levens, Strasbourg, Morillon and Nantes.
How about volume requests?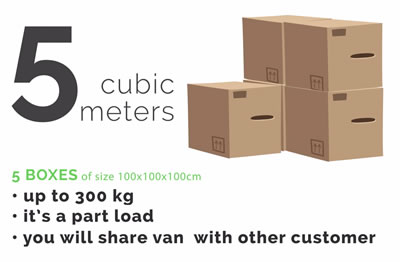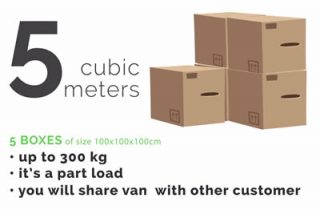 If someone was looking to move from the UK to any European country in 2019, 5 cubic meters for goods (part load) was enough – 40% requests.
27% of our customers decided to book dedicated service 20 cubic meters and 24% were looking for another part load option provided by MyCheapRemovals – 10 cubic meters.
Only 7% of visitors requested 30 cubic meters service.
International removals to the UK in 2019 – where from?
In 2019 33.9% removals quotes served to customers were from Europe to the United Kingdom. We can't say if UK is a less popular destination to move or just simple fact our marketing actions concentrated mainly in the UK, so we can't be 100% sure if this is the most accurate data. Here is a table showing origin countries:
| | |
| --- | --- |
| Germany | 28.6% |
| Spain | 12.2% |
| France | 13.0% |
| Italy | 7.6% |
| Sweden | 6.8% |
| Austria | 6.1% |
| Netherlands | 6.1% |
34% other quotes were from countries like Portugal, Switzerland, Slovenia, Poland, Ireland, Monaco, Belgium, Lithuania and Finland.
Most popular removals destinations to the UK in 2019
There are no big surprises on the first and second position in this data – most populated regions in the United Kingdom wins.
Most popular destinations (regions)  for removals from Europe to the UK as follow:
Greater London – 40%
Greater Manchester – 4.58%
Kent – 2.3%
Monmouthshire, Merseyside, West  Midlands, Fife – 1.9%
Windsor and Maidenhead, Derby, Grand Londres, Northamptonshire, Devon, Oxfordshire, Somerset, Staffordshire – 1.5%
In summary, apart of London and Manchester, there are no specific area or city that stands out.
All the best in 2020 from MyCheapRemovals team.
Remember – till the end of January 2020 we offer a great discount for international removals – make sure you book next journey with us!
---