Average costs of moving to Madrid from the UK
With MyCheapRemovals you can quickly find out how much it costs to move to Madrid in Spain. Our instant removal quote system helps you estimate cost and we promise that we can't be beaten on the price. Since the United Kingdom is not a member of the European Union additional cost for customs need to be considered. When you book removal to Spain with us, please make sure you ask our customer service for more details.
Available volume and weight options are 5, 10, 15, 20 and if you need even 30 cubic meters. You can find out more details here. We selected those volumes as we have numbers of years in the international removals industry … and it also helps calculate removal quotes on the fly. Keep in mind that we are flexible – if you have special requirements like a bicycle or white goods – please get in touch with us and we can discuss the details.
Madrid as the capital city of Spain is one of the most popular destinations in Spain and actually the whole Southern part of Europe.
Here are example quotes for a small removal – 5m3 or 175 cubic feet – up to 300 kg:
London to Madrid – £899
Bristol to Madrid – £949
Birmingham to Madrid – £959
Newcastle to Madrid – £959
If you'd take a more significant load – 10m3 – up to 600kg – you are looking at £1169 from London and £1239 from Bristol or Birmingham.
Did you know that MyCheapRemovals provide removals to Spain services?
You can choose from 5 different volume options – from small to large removals.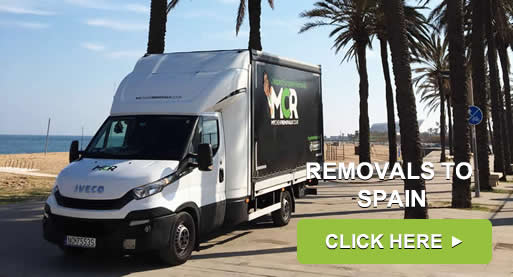 Removal quotes from Manchester to Madrid
Tired of constant rain in North West part of England – Manchester in particular? To move from Manchester to Madrid for 5m3 we'd ask for only £929 deposit. Payment is made through a trendy and secure Stripe Online payment system.
For bigger –  10m3 and 15m3 loads – the total cost for removal will be £1259 and £2069. Any volume option up to 15m3 is classed as part-load removal.
Dedicated services class also as full load – 20 and 30 cubic meters – £2749 and £3389. The biggest advantage of this option is that this is just for your consignment, so it's guaranteed the fastest.
---