The United Kingdom attracts ex-pats from across the globe looking for new beginnings, work and education. Here at MyCheapRemovals helping to move from the whole of Europe to the UK. Its capital, London – the most popular destination, is a truly global city with a wide array of opportunities for ex-pats looking for work, particularly in the financial services sector. In fact, according to the World Population Review, the London population could reach 9.8 million by 2025. It is an exciting, vibrant, and diverse city with a strong economy, so no wonder it is such an appealing destination. However, moving to such an enormous agglomeration can be both exciting and overwhelming. In order to alleviate some of your worries and give you peace of mind, we decided to bring up some of the most important issues related to relocation to London. At the bottom of the article, we also provide the exemplary costs of moving. As you will see, the shipping costs may really be cost-effective.
London's urban structure
London is divided into 9 zones that start in its historic centre. These 9 zones are essentially the way the London Underground Map (or the Tube Map) is split, with the purpose of paying more as you travel farther on the system. Generally, most top attractions, such as Kensington Palace, Victoria and Albert Museum, and Piccadilly Circus are found in zone 1 and 2. These two zones are called "Central London", and are the most common zones for tourists to visit. Every zone after Zone 1 is like adding layers to the "ring," and the further you go into zones, the further you are from Central London.
For those who are moving to London, finding a house in the first two zones may be very tempting. As a matter of fact, living in Central London has its benefits, but of course, it is not ideal for everyone. Rent in Central London is the highest in the city, and there is a high tourist population in this area. Moreover, there is no such thing as the best place to live in London, as there are many different areas and many exciting things to do as a Londoner.
London's public transport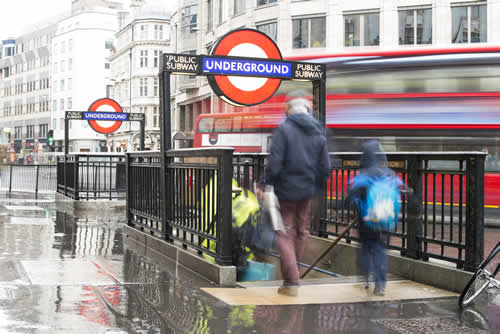 Despite all the bad rap, London actually has an excellent public transport system, and a lot of modes to choose from. The most well-known method of transportation in London is the London Underground, also called the Tube. This is an underground network of tunnels similar to New York City's subway system.
Charing Cross is a junction in Central London where 6 routes meet. For many people, it is important that their homes be as close to Charing Cross as possible, as it is easier to access the rest of the city through this junction.
The Overground is a system of tram-like vehicles operating above ground. If the Tube does not have a station in a certain area, it is likely that the Overground does.
The bus system in London is also another efficient transportation option. There are around 50 bus stations and more than 19,000 bus stops throughout the whole city.
The Tramlink, while similar to the underground, is an entirely different service operating on different routes and schedules.
Docklands Light Railway is a light metro system in the Greater London area. It has 7 different lines and 45 stations. On an average day, around 340,000 commuters use the DLR.
As you can see, there are several means of transport to choose from, in order to facilitate moving between zones.
Cost of transport
If you will be using public transportation often, it is highly recommended that you use an Oyster Card. Think of the Oyster Card as an electronic ticket (in the form of a card) that allows you to move around the Greater London Area.
According to London Toolkit, the Oyster Card is valid for:
The London Underground network
The London red local bus network
The railway network in Greater London
Docklands Light Railway (DLR), TfL Rail Services and Overground Railway
Heathrow Express
TFL railway services including the TFL Heathrow Airport train
33% discount on many scheduled river services
Train services between London and Gatwick Airport.
There are two types of Oyster Cards: Visitor Oyster Card and Regular Oyster Card. As you can guess, the first one is used by London guests, whereas the second one is for people living in London. The Oyster Card works with a pay-as-you-go system. The more you move around London, the more you pay. You can always top off your Oyster Card with more money at one of the machines in the stations. Both types of Oyster Cards have a daily cap, which means that once you reach a specific credit limit on your rides, the rest of the rides will be free.
Cost of living
The cost of living in London is notoriously high, though you might lose some expenses by moving to the city. For example, you probably won't need or want a car, and your public transit costs will likely be much less than a car payment, insurance, and fuel. However, you'll likely pay more for rent and dining out than you did back home.
Coming up with a reasonable budget for housing expenses can be challenging for ex-pats. Money-Saving Expert's salary calculator was a helpful starting point, but the best thing to do is ask HR/payroll to send you a pay stub estimate. Having an accurate budget is essential for deciding what neighbourhoods to target, and figuring out how much space you can afford.
In the UK, renters also have to pay council tax, which is like property tax. How much you pay depends on your borough and property value. KFH has a useful council tax tool that will show you neighbourhood tax bands. Fortunately, students don't have to pay council tax, and single occupants get a 25% discount.
Moving to London – volume options
If you are willing to move to London with MyCheapRemovals, first you need to estimate the volume of your load. We offer numerous volume options to choose from if you look for cheap home removal. Our options include small 'part load' removals, such as 5 cubic metres and 10 cubic metres, as well as big removals, such as 15 cubic metres, 20 cubic meters and 30 cubic metres, for those who are moving house.
Please bear in mind, that there are certain weight limits within each volume option. Consequently, while choosing one of the options we offer, you need to consider the total weight of your load. The standard volume options and the accompanying weight limits look as follows:
 5 cubic metres – up to 300 kg or 660 pounds – small, part-load removal,
10 cubic metres – up to 600 kg or 1320 pounds – small, part-load removal,
15 cubic metres – up to 1200 kg or 2650 pounds – large removal,
30 cubic metres – up to 2400 kg or 5290 pounds – large removal.
Moreover, there may be some distinctions regarding the delivery time between the volume options. Our small removal options, such as 5 and 10 cubic metres, are part load options, therefore, your removal will be combined with someone else's. In these options, it may take a bit longer before your goods arrive in London. On the other hand, our "full van" options (20m3 and 30m3) are dedicated options, so the van will go straight to your final address, shortening the overall time of shipping to London.
Cost of removals from Germany to London
To give you a general idea of the moving costs from Germany to London, we selected the most vibrant German cities and provided the actual quotes. Please feel free to use our instant quote form to check the international moving cost, if the list does not contain your collection place.
Berlin to London
5m3 (up to 300kg) – £719
10m3 (up 600kg) – £949
15m3 (up to 1200kg) – £1459
30m3 (up to 2400kg) – £2679
Frankfurt to London
5m3 (up to 300kg) – £649
10m3 (up 600kg) – £849
15m3 (up to 1200kg) – £1289
30m3 (up to 2400kg) – £2429
Munich to London
5m3 (up to 300kg) – £739
10m3 (up 600kg) – £969
15m3 (up to 1200kg) – £1499
30m3 (up to 2400kg) – £2729
Hamburg to London
5m3 (up to 300kg) – £699
10m3 (up 600kg) – £919
15m3 (up to 1200kg) – £1409
30m3 (up to 2400kg) – £2599
Dortmund to London
5m3 (up to 300kg) – £599
10m3 (up 600kg) – £779
15m3 (up to 1200kg) – £1169
30m3 (up to 2400kg) – £2249
If you require a non-standard volume option, or if you have more questions, please call our Customer Service at 01942 926 944, 01942 409 822 or 01942 409 821.
---