EDINBURGH VS MALAGA – Cost of living comparison
You are currently living in Edinburgh and are thinking about moving to Malaga, yet you are not sure how much money you will need there to maintain your current standard of living? Or perhaps you work remotely and are wondering which of the two cities – Edinburgh or Malaga – would be cheaper to live in?
In this article we will compare the cost of living in those two cities, covering the essential aspects of life, such as food, housing, clothes, transportation, personal care and entertainment.
Edinburgh Housing Costs
Edinburgh is quite an expensive city to live in by UK standards but not as expensive as London. Comparing it with major cities worldwide, it is quite a reasonably priced city. Prices obviously vary from area to area, but the figures below will indicate what's available at what price.
Monthly Rental Prices in Edinburgh
1 bedroom flat (apartment) in City Centre: £550+
1 bedroom flat outside the City Centre: £400+
3 bedroom flat in City Centre: £1000+
3 bedroom flat outside the City Centre: £780+
Edinburgh Home Purchase Prices
Price per square metre (10.7 square feet) to buy in City Centre: £2,100+
Price per square metre (10.7 square feet) to buy outside City: £1,250+
Edinburgh Food, Grocery and Restaurant Costs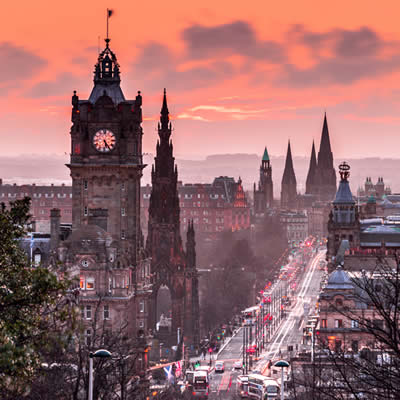 The cost of food and drink in Edinburgh is similar to other cities in the UK. For a typical meal in a pub with a drink, you can end up paying £15-20 per person. For higher-end restaurants and even afternoon tea, the price can easily go higher. If you prefer something cheaper, try lunch and ready-made sandwiches served at cafes. Market food is also delicious and does not cost much. For £5-10 per person, you can try delicious food from a variety of cuisines.
Edinburgh's local groceries are all over the place and have a good selection of basic items at decent prices. Although, you should keep in mind that local stores are usually a bit pricier than purchasing the same items from the equivalent larger store.
Eating out in Edinburgh is a wonderful experience. It has food for everyone, from its four Michelin-starred restaurants to its takeaway seafood places, you won't be disappointed.
If you are a whisky lover, then Edinburgh is the place to sample an infinite variety of single malts. However, do note that with the recent decline in sterling, a lot of imported food has increased in price, which has obviously pushed up restaurant prices.
Inexpensive Restaurant: £10.00 – £15.00
Takeout Coffee: £2.20 – £3.00
Bottle of Coke: £0080 – £1.65
1L of milk: £0.75 – £1.20
Loaf of Bread: £0.62 – £1.45
12 Eggs: £1.50 – £3.00
1kg Chicken: £5.00 – £10.00
1kg Beef: £6.00 – £12.00
1kg Apples: £2.00 – £3.00
1kg White Rice: £0.80 – £2.18
Edinburgh has a wealth of pubs, clubs and bars. Ranging from basic, welcoming pubs to high-end clubs. You will be blown away by the single malt whiskies to sample at every hostelry for whisky lovers. The following is a list of basic prices of beer and wine from the supermarket and restaurants.
Pint (0.6L) domestic beer at a restaurant/pub: £3.00 – £4.10
Bottle of imported beer (0.33L) at a restaurant/pub: £3.00 – £4.50
Pint (0.6L) domestic beer at a supermarket: £1.00 – £2.00
Bottle of imported beer at a supermarket: £1.00 – £2.00
Mid-range bottle of wine at a supermarket: £6.00 – £10.00
Entertainment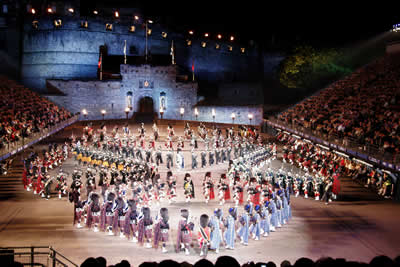 Entertainment wise Edinburgh has a lot to offer for people who live there. From museums to art galleries, to theatrical shows to West End musicals. Many museums and art galleries have free entry to their permanent collections, such as the National Museum of Scotland and the National Gallery of Scotland. For frequent visitors, these museums often have temporary exhibitions of varying topics. Usually, the tickets for those exhibitions tend to be £10-15 per person.
Other entertainment options include the tourist attractions in Royal Mile, such as the Edinburgh Castle, the Scots Whiskey Experience, and Real Mary King's Close, all starting from £17 per person.
Additionally, Edinburgh has a rich selection of theatrical and music shows. Home to the Fringe festival every August, a cultural blend of shows, performances, talks, and more, Edinburgh provides an interesting art scene year-round. Tickets for shows usually start from £15 per person but, if you want to see a West End show touring the area, tickets can start from £45 per person.
Overall, assuming you do 1-2 entertainment activities per week, you should budget about £100 per person per month.
Edinburgh Public Transport
Edinburgh's transport system is managed by Transport for Edinburgh and is serviced by trams and buses. The upgraded tram service is excellent and even takes you to the airport. Lothian buses run 70 different services in Edinburgh, reaching every corner. Here are some example ticket costs.
Adult Single – City Zone (excludes airport) – £1.60
One day ticket for bus and train – £4.00
Monthly season ticket for bus and tram – £45
Yearly season ticket for bus and tram – £630
How to save money on public transport
Buy a Family Day ticket – covers 2 adults and 3 children – £8.50. Buy a bike. There is a good system of cycle lanes all around the city. The city is not that big and exercise is always good.
How much does it cost to live in Málaga?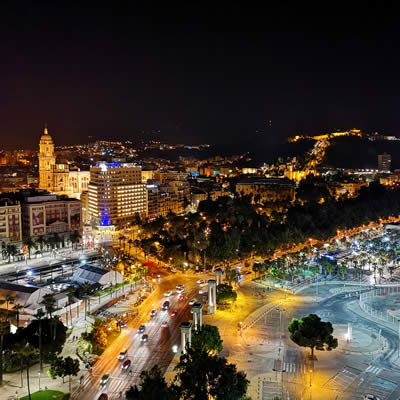 Prices can vary depending on the neighbourhood, the number of people living in the apartment, and the facilities. We offer all our trainees an accommodation service for €460 in a shared apartment including rent, bills, and assistance.
If you like to party, Málaga city is the place to be! The centre is bustling with craft beer pubs, trendy bars, and clubs! If this is not your scene, you could head to Pub for some live music or a jam night! You are not a party person? Málaga is famous for its abundance of coffee shops and brunch bars. There are also language exchange events in the city at least 4 nights of a week. Málaga has something for all!
Málaga centre is easy to walk or cycle around as it is completely flat. Public transport is rarely needed here. If you prefer public transport, the fee is €1.30 per journey. Taxis are also not expensive, but costs can add up if you use them regularly or late at night (although there is also a night bus).
Monthly budget:
| | | | |
| --- | --- | --- | --- |
| | Low – cost | Average | High – cost |
| Accommodation | €375 | €400 – €500 | €500 + |
| Food and drink | €120 | €150 – €200 | €300 + |
| Leisure | €80  | €100 – €150 | €200 + |
| Transport | €0 | €20 | €40 + |
| Course | €1400 | €1400 | €1550 |
| Total | €1975 | €2070 – €2270 | €2590 + |
Lower cost
Most people who are living in Málaga for more than 6 months choose to rent a room in a student apartment in the city centre. There are many options in the city and you can find a long-term room for about €375 a month with bills included (plus one month's deposit).
Málaga isn't an expensive place to live. You can have a glass of beer and a tapa for about €2.50. A typical Spanish breakfast can be bought for just €3 (this includes a coffee, orange juice, and a toasted sandwich called a Pitufo). Good coffee is hard to come by, the Spaniards do coffee well – it's just knowing how to order coffee in Málaga that matters! You will need approximately 30€ per week for your groceries. There are plenty of supermarkets and places with competitive prices. The historic centre is small and easy to walk around, so there is no great need to use public transport in Málaga.
In Málaga, there is plenty to do which doesn't cost a penny! From hiking the Málaga mountains surrounding the city to lazing on the beach and browsing the food and craft markets. Many of the Museums are also free to enter on a Sunday – it is difficult to get bored here, to be honest!
Average cost
Increasing your accommodation budget slightly will make things a little easier for you. If you'd like to live in a particular area or with only one other person, for example, you might find that spending a little more on your room will also mean a more modern, larger, or better-equipped apartment.
Málaga is bustling with restaurants and bars on every street corner. Having a more flexible budget will allow you to eat out without breaking the bank. A 'Menu del Dia' (a three-course meal at lunchtime) is typically 8€. If you are into your wine, you are in luck! You can pick up a decent bottle for just €3 at the supermarkets.
Many other activities can be enjoyed in Málaga such as; boat trips from the beautiful port (Muelle Uno), a visit to the botanical gardens (Jardín Botánico-Histórico La Concepción) or just exploring the street art in the up and coming Soho district. If you are looking for something a little more exciting, you could try the famous gorge walk (Caminito del Rey).
While living in Spain, learning Spanish will greatly improve your quality of life. It will open doors to new opportunities and allow you to meet new people. Most of all, learning Spanish will mean being able to get things done daily without the hassle of a language barrier. You can sign up for 3 hours of Spanish classes a week of group classes for about €75 a month.
Higher cost
If you prefer to live alone or in a slightly smarter apartment, the sky's the limit. From €550 you can rent a good double room in a shared apartment with a terrace. Your own one or two-bedroom apartment could be more like €650 – €850. If you opt for your own apartment, you can expect to pay a month's deposit plus a one-month agency fee. This option is usually chosen by those who have decided to stay long-term.
Price comparison by the Spanish region
Living in cities like Madrid, Barcelona or San Sebastian can be up to 40% more expensive than other countries' interior regions.
So, even though the Spanish territory, in general, has lower prices than the vast majority of EU countries; this big city can distort a bit of the comparison.
Let's move on to see the cost of living for the cities that the vast majority of emigres choose:
Cost of living in Madrid:
As the capital of the country, Madrid may be the most expensive city.
There are many touristic places you should avoid if you don't want to burn cash, and living in the centre is an impossible mission. Nevertheless, the labour market offers more opportunities; as it is one of the most important economic centres of the country, so your chances of getting a higher salary are bigger. Furthermore, as the city is huge, it is completely possible to find cheaper rents provided that you move outside the main touristic areas.
Cost of living in Barcelona:
Barcelona is another top destination. Offering a sea + mountain landscape, it has everything you need.
Nevertheless, the problem with the rent is completely real; moving towards 500-700€ per month. That, compared to the average wage, is really high.
Our advice? Avoid the city centre. The surroundings of Barcelona, its metropolitan area, offer cheaper opportunities.
And, as public transport is really efficient, you can get to the centre in record time.
As a student, opting for a shared flat is the go-to option.
If you really like Barcelona, you can sort things out and get a not-so-expensive cost of living. But if you don't care that much about the city, Valencia, which is really similar, can be an amazing alternative.
Cost of living in the South: Malaga, Sevilla, and More
The southern region of the country is another preferred choice for many emigres. And there are good reasons for that: you can enjoy amazing living standards at a really low price. That is the South of Spain is, according to our opinion, one of the top best 10 things in the country.
But you need to be careful. Cities like Marbella can be expensive, even more than Barcelona depending on the area. General living expenses won't be that high, but rental prices are what you need to pay attention to. But, again, the surroundings and small towns close to the big cities of Andalusia can offer € 200 a month options worth considering.
As you have seen, living in Spain is not really that costly. Of course, it will hugely depend on where you start living (Madrid, Barcelona, or Marbella being some of the most expensive options), and on your exact lifestyle. Nevertheless, you can comfortably live with 20.000€ per year and enjoy going out for dinner regularly. You will need to be careful with the rent; but if you use public transport, make outdoor activities the core of your leisure and buy food in regular supermarkets.
Is it cheaper to live in Spain than in the UK?
Yes, Spain is cheaper.
Even though certain prices are nearly the same, like water bills, you can find certain differences which favour the Spanish territory.
For example, in Spain, telecommunication companies offer packages that include both phones and television for the whole family, reducing the total expense considerably. Furthermore, it is in food where you will find another big difference. Supermarket prices are way cheaper than in the UK; especially when comparing products such as olive oil, wine, and beer. When it comes to transportation, you will also save some money. Because public transport works so well in big cities and because you can easily get everywhere walking in smaller ones, using your private transportation won't be necessary. So you will save a bunch of euros on fuel. But for those of you who enjoy driving your car, the good news: fuel is much cheaper in Spain; especially when it comes to diesel.
---