Romania is known worldwide because of its historical region, Transylvania, which served as an inspiration for the setting of Bram Stoker's critically-acclaimed novel, Dracula. But apart from its association with vampires, Romania is home to a number of majestic castles and prominent natural landscapes. People moving to Romania for employment purposes are required to obtain a working visa from the Ministry of Labor and Social Protection, together with a copy of a work contract from their Romanian employer.
Romania is an intriguing option for emigrants seeking work in Eastern Europe: it might not be your first choice but it is definitely worth considering, as the country is the new home to some big multinationals, has a relatively low cost of living, and a current low rate of unemployment which suggests that the economy is reasonably healthy.
The official language is Romanian and is used by close to 90% of the people of Romania. Locals who live along the border with Hungary naturally speak Hungarian, while tiny communities speak German.
Romania has at least 25 superbly preserved architectural jewels recognized as UNESCO Heritage Sites and is perfect for educating emigrants about the coloured part of a country that was the last conquered territory of the Roman Empire.
Today, Romania is an independent state, and Europe's 9th largest land housing the 7th largest population in the European Union. Its entry into NATO paved the way for the country's unstoppable conquests of its own. Now, Romania is a semi-presidential unitary state of the upper-middle-income bracket by EU standards. However, its speeding growth rates and development have earned it the distinction of being Europe's one and only Tiger economy.
Did you know that MyCheapRemovals provide removals to Spain services?
You can choose from 5 different volume options – from small to large removals.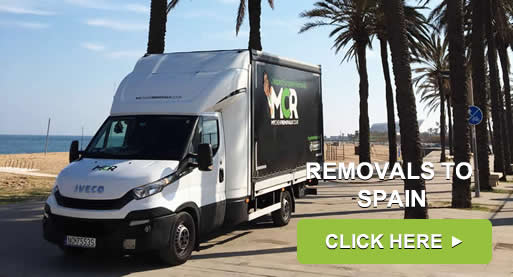 International and Local Schools
Many private schools in Romania use English, German, or French as languages when teaching. There are also international schools like The International School of Bucharest where the curriculum is designed to fit the educational background of emigrant children. Education in Romania is mandatory until the age of 16. You can also check some of the local schools like the University of Bucharest, one of the leading higher institutions in Romania founded in 1864.
School and Public Holidays
Romania is a very religious country. Nearly 90% of all the people are from the Eastern Orthodox Christian religion. As a result, many holidays in the country are religious and culture-based. Some holidays such as Orthodox Easter go for three days where workers get to stay home and celebrate.
The country has 20 holidays per year. The Romania Labor code regulates the holidays. The law states that workers will only be entitled to eight official holidays per year. It acknowledges the religious observances but does not warrant time off for workers. One can negotiate with their employers requesting time off though it might not be paid.
The country gets involved in holiday affairs, and on this day most businesses, banks, and government offices will be closed. The public system may also be congested as families take their families out for fun. The road traffic, however, is reduced as compared to other workdays.
The holidays in Romania are influenced and observed by the religious organization, the culture of the community, democracy, and public affairs such as social conflict. As a result, though most of the holidays are religious, there are those that differ such as labour and children's day. Out of these holidays, ten of them are recognized as unpaid holidays by the government. Other events take place where festivals and celebrations fill the streets though they are not recognized as holidays.
New Year's Day January 01, 2023
Day after New Year's Day January 02, 2023
Unification of the Romanian Principalities/Small UnionFriday January 24, 2023
Orthodox:
Good Friday, April 14, 2023
Easter Sunday, April 16, 2023
Easter Monday, April 17, 2023
Labour Day May 01, 2023
Children's Day June 01, 2023
Orthodox Whit Sunday, June 04, 2023
Orthodox Whit Monday, June 05, 2023
Dormition of the Theotokos August 15, 2023
St. Andrew's Day November 30, 2023
National Day/Great Union December 01, 2023
Christmas Day December 25, 2023
Boxing Day December 26, 2023
Tax Guideline for Romania
After joining the European Union in January 2007, Romania went through a series of government reforms in order to satisfy the conditions of EU membership. Nowadays, the requirements of membership – including EU directives – are one of the driving forces in Romania's program of reform, modernization, and investment in infrastructure. More significantly, these directives are accompanied by funding from the EU in the form of Structural Adjustment Funds and other programs, which enable the new members to align their economies with the rest of the EU.
Romania is a market with excellent potential, a strategic location, and an increasingly solid business climate. While careful evaluation of the market is needed in order to seize business opportunities, exporting to or investing in Romania is gradually becoming less challenging than in previous years in terms of business environment predictability.
Value-added tax – general information
Taxable person
Legal entities and individuals that carry on independently an economic activity.
Taxable event
The supply of goods and services in relation to economic activity within the territory of Romania
The intra-Community acquisition of goods/services having a place of supply within the territory of Romania
The import of goods into Romania
Taxable amount
Total consideration charged for the supply, excluding VAT but including any excise duties or other taxes and fees. In some cases, between related parties, the taxable amount consists of the market value.
Tax period
The standard fiscal period is the calendar month. For taxable persons whose previous year-end turnover is lower than EUR 100,000 and who did not perform intra-Community acquisitions of goods, the fiscal period is the calendar quarter.
Tax assessment
Periodical VAT returns (monthly or quarterly, by the 25th day of the following month) and the Local Sales and Purchases List (monthly, by the 25th day of the following month). The payable VAT liability consists of the output VAT, due to the supply of goods and services carried out, less the input VAT of the same period (monthly or quarterly, by the 25th day of the following month). The refundable VAT (when input VAT is higher than output VAT) can be requested for refund or carried forward until the statute of limitation period expires (5 years).
In addition, taxable persons carrying out intra-Community operations with goods or services with the place of supply according to the basic rule for "business to business" services have to file an EC Sales List (that shows the VAT identification numbers of his business partners and the total value of all the supplies of goods and services performed by the entrepreneur) on a monthly basis depending on the situation.
Submission through electronic means is available.
All the above tax statements are to be prepared based on the information presented in the VAT Sales and Purchase Ledgers.
Reverse charge
The reverse charge applies for intra-Community acquisitions, where both parties are registered for VAT purposes. Local reverse charge is applicable in some cases between two Romanian VAT payers, for example:
Corn and industrial crops, including oilseeds and sugar beets
Certain waste and recyclable materials
Wood and alike materials
Gas emission and "green" certificates
Electric energy to traders
Land and buildings
Investment gold, under certain conditions
Mobile phones
Integrated circuits such as microprocessors and central processing units
Portable automatic data processing devices (such as laptops, tablets, etc.)
Video game consoles
VAT registration
Normal VAT registration
The mandatory VAT registration for taxable persons having a place of business activity in Romania should be performed when the annual turnover of EUR 88,500 (RON 300,000) is exceeded. Voluntary VAT registration before the threshold is exceeded is also possible.
Non-resident taxable persons established in Romania through fixed establishments and non-residents having no actual presence in Romania can register without observing the above threshold. However, a VAT number must be in place before the commencement of the economic activity.
A foreign taxable person that makes long-distance sales (mail-order business) to any non-taxable person or that is not registered for VAT in Romania must register for VAT in Romania if the total annual value of the goods/supplies reaches EUR 35,000 (RON 118,000).
Identified person
A taxable person not registered for normal VAT purposes in Romania and not required to register is liable to register as an identified person (special VAT registration) in the following situations:
Purchase of services from persons established outside Romania having the place of supply in Romania
Supply of services with the place of supply in another EU Member State
Intra-Community acquisitions of goods from another EU Member State cumulatively exceed the annual threshold of EUR 10,000.
VAT group registration
Companies that are legally independent but are closely related financially, economically, and from an organizational point of view may form a tax group administered by the same tax office and having the same tax period. Transactions between the members of the group will still fall within the scope of VAT.
The Romanian housing market
Romanian house prices keep going up but not as fast as they used to. In addition to that, economic growth in Romania slowed down compared to previous years.
The cost of renting an apartment in Romania is relatively low compared to other parts of Europe, however, it is also important to keep in mind that salaries are lower also. When renting an apartment, you should also consider that many emigrants moving to Romania from the USA, UK, and other places tend to rent newer apartments in newer areas. In the centre of Bucharest, apartments are cheaper but are also older and in need of repair.
A single-bedroom apartment in Bucharest will cost between 1500 – 2500 lei (€310 – €516) per month. For a family moving to Romania, a three-bedroom apartment in the centre of Bucharest will cost around 2500 – 5000 lei (€500 – €1000) per month.
The cost of living
Although prices have been going up quite a bit in the past several years and there are no signs it will stop here, the cost of living in Romania remains one of the lowest in Europe. This is extremely good news for foreigners that come here without depending on local jobs – where salaries are low, just like the cost of living. However, even if you come to work in the country, you could still find a well-paid job, earning a lot more than the average Romanian.
Normally, for a single person, if you have 1,000 Euros per month (or more), you can still live a very decent life with rent and all expenses included. 1,500 Euros per person and 2,000 Euros per family would probably be in the "very safe" zone too.
If you've been in Romania for a while, you probably know already that Romanians love to impress – even the people they don't like.
When it comes to foreigners, things become – on most occasions – even more important. Romanians want foreigners to feel good in their country and leave with a solid impression (no matter if the people are actually moving there forever or not).
Romanians are considered, like most people living in the Balkans, great hosts. They will usually go the extra distance to feel you welcome and improve your experience in Romania.
Living in Romania Pros and Cons
Ever wondered what it would be like living in Bucharest, Romania? The pros and cons of living in Romania?
The first 24-48 hours in each city are usually filled with the "Ohhh ahhhh" stage. This is where you look at all the attractions that interest you, perhaps visit some nightlife and go to a fancy restaurant. The next day you perhaps see something else, after that? You basically just live your life in that city if the pros and cons work for you.
You don't need to live somewhere for 1 year to get a feel for it. It doesn't take long to figure out the pros and cons. The pros of living in Romania are that it's central, low cost of living is relatively safe and has fast internet.
The cons? English isn't always spoken.
Some other cons of living in Bucharest include not too many healthy dining options, and the lack of a strong emigrants community.
One of the huge pros of living in Romania is that the kids can have a better childhood in Romania. They have the opportunity to entertain themselves with their own imagination. It's not about socially constructed play dates and parent-driven, kid-friendly activities. For children, the magic of childhood is the self-discovery that occurs at that happy crossroads of minimal supervision and the freedom to explore. By and large, it's still safe enough for kids to discover life on their own in Romania. It's not for nothing that Romanian children were found to be the happiest in the world.
Also, everyone is entitled to free health care in Romania. Indeed, the rural hospitals are terrible, and if you draw up a list there are probably more cons than pros about the Romanian healthcare system. But it's there and they will take care of you. And you won't be destitute after. This puts you a step up on any Britain who's had to visit a hospital without health insurance.
All in all, even though Romanians are generally very open to meeting new people from all parts of the world, you will still have to make some adjustments to enjoy life in the country.
Although I wouldn't really call it a "culture shock," there will definitely be some differences in terms of Romanians' mentality and way of doing things.
Living in Romania as a foreigner shouldn't be too difficult. The cultural differences are not huge and now with all the globalization and the internet available everywhere. People are becoming more and more educated and ready to embrace or at least accept cultural differences.
Also in terms of things you can do to keep yourself entertained, the food you can eat and the stores you have available, you shouldn't worry about missing anything that you have in your home country.
If you have other more specific questions about living in Romania as a foreigner, let us know.
MyCheapRemovals will give you the best to offer an honest answer as well as the cheapest removals options to Romania
---