Relocations to Denmark are associated with moving to a Scandinavian country with a high quality of life. Many people are moving to Denmark from other countries because of the high standards of living and numerous opportunities for personal development. However, both locals and incoming people complain about the weather and high taxes.
We have prepared some more basic facts you need to know about living in Denmark before you decide to immigrate there.
Knowing the steps to move to Denmark is essential for your upcoming move. This guide provides insider information on visas, housing, banking, healthcare, education, and all the requirements for moving to Denmark.
You already have your mindset on this destination. Now you need to get your plans in motion. How to move to Denmark? Is it easy or hard to move to Denmark? This will depend on several factors. If the language barrier is a concern for you, you will be pleased to know that most Danes speak English well. However, it is advisable for you to at least learn conversational Danish, so you can integrate a bit more quicker.
There are many things to know before moving to Denmark. For instance, you may have difficulty finding accommodation in larger cities like Copenhagen and Aarhus. You should also expect high fees for almost all Danish banks. We have done all the research for you and show you how to avoid some of the most common setbacks emigrants may experience.
And if you're worrying that you'll miss out by not being a local, don't be! The study shows that people who move to Denmark are just as happy as those born there. If you're moving to Denmark, you'll have every opportunity to level up in the realm of happiness (as long as you're not moving from Finland:) ).
Work in Denmark
What is it like to work in Denmark?
In a nutshell: 37-hour work weeks and a generous salary.
Danish residents are not expected to work overtime but must be productive and play an active part in their company, no matter their position or how long they have been with the company. The Danish business culture is also fairly straightforward. Being a critical thinker, an autonomous employee, and, above all, a team player is key to a successful career in Denmark.
The average salary is 47,000 DKK a month (5,700 GBP) gross (or even more in the capital – Copenhagen), although as much as half of that can go towards taxes. Paying social security in Denmark ensures a number of benefits, such as maternity, sick leave, etc. This applies whether you are an employee or take up self-employment in Denmark.
Taxes
Due to the cultural focus on collective means, the taxes in Denmark are considered quite high when compared to other countries. They have a 25% VAT, and the average Dane pays a 45% income tax.
Don't be disheartened! Healthcare and education are free, or at the very least, extremely cheap, so you'll save a lot of money in the long run, and won't have to worry about an accident draining your bank account.
If you're planning a move to Denmark, you'll probably need to convert some of your savings into Danish krone. However, it's best to avoid using high street banks for this process, as you'll you won't get the best exchange rate and usually have to pay high fees.
Healthcare is free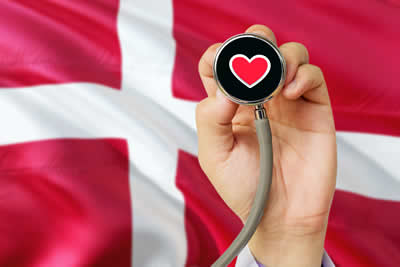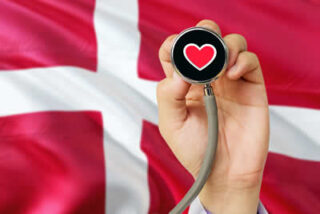 The health insurance and healthcare system in Denmark should cover all your medical needs. This will be free of charge if you opt for public healthcare. Also, the standard of the Danish healthcare system is high. The doctors and staff are well-trained and qualified. Their efficient data storage system ensures your medical information is accessed by medical professionals across the whole country, giving you more accurate treatment no matter where you are.
As is common in most other countries, there are waiting lists for elective surgeries and procedures in the public system. However, you are able to take out private health insurance in Denmark, which will reduce waiting times to see doctors. This section of our guide will explain how to find a doctor in the country. Keep in mind that you will need referrals from your family doctor to see any specialist, whether that is in the public or private sector.
If you are worried about the process of giving birth in Denmark, you have nothing to worry about. You are in good hands when using a doctor and midwife from the public healthcare system, and you will find everything you need in the hospital for a comfortable stay.
Housing
Finding accommodation in Denmark is not the easiest of tasks. Whether you are looking to buy or rent, be aware that prices are high. To get the best deal, you will need to understand the local housing market.
If you want to know how to buy a house in Denmark as a foreigner, a word of caution—the market may not be as fair to emigrants as it is to native Danes. For instance, you may have a harder time finding a reasonable mortgage rate.
You should expect to spend quite a bit on housing in Denmark. The average rent is around 8,800 DKK in city centres, and even higher in Copenhagen at 16,600 DKK a month. Utilities in Denmark will add roughly 880 DKK to your monthly expenses.
As for average house prices, the cheapest houses range between 1 and 3 million DKK. The houses in this price bracket are sought-after and sell fast, whether they are a good deal or not. This means you have little to no bargaining power if you are looking to become a homeowner. For reference, a 140-square-meter apartment costs 2,000,000 DKK on average.
Education in Denmark
Education is divided into the following levels:
preschool,
primary education,
secondary education (which includes lower and upper secondary school),
higher education.
Denmark's education system comprises both public and private schools. Around 15% of students in basic school attend private schools. The public education system is free from primary to higher education.
Although compulsory education is only up to 16 years of age, more than 80% of students go on to study in the following education levels.
Public Holiday in Denmark 2023
New Year's Day. Sunday, January 01, 2023
Palm Sunday. Sunday, April 02, 2023
Maundy Thursday. Thursday, April 06, 2023
Good Friday. Friday, April 07, 2023
Easter Sunday. Sunday, April 09, 2023
Easter Monday. Monday, April 10, 2023
General Prayer Day. Friday, May 05, 2023
Ascension Day. Thursday, May 18, 2023
Constitution Day Monday, June 05 2023
Christmas Day Monday, December 25, 2023
Boxing Day Tuesday, December 26, 2023
Living in Denmark
So why is living in Denmark as a foreigner such an attractive proposition? There are lots of countries out there that are open to accepting foreigners looking to live and work away from their home country — what's so great about living in Denmark as an expat?
One big draw is that the standard of living in Denmark is remarkable for a number of reasons.
The lifestyle in Denmark is very human-oriented, with an emphasis on culture, education, and social programs. All of these factors contribute to a very high standard of living in Denmark which is the envy of nations around the world.
Denmark also offers plenty of opportunities for enjoying buzzing, cosmopolitan city life, with 16 Michelin-starred restaurants and a hopping music and arts scene, especially in Copenhagen.
But the benefits of living in Denmark also include plenty of gorgeous, natural places to enjoy some quiet camping, hiking, and time at the seashore. In fact, the waters around Copenhagen are so clean that they have earned a coveted "blue" rating for cleanliness.
The cost of living in Denmark
So how much does it cost to live in Denmark? One big hurdle for lots of prospective emigrants who are considering living and working in Denmark is they've heard that the cost of living might be out of control compared to that of their home country.
Indeed, for anyone considering taking their career and life in such a drastically different direction and emigrating, living expenses in Denmark are usually right up at the top of the list of concerns.
And while it's true that like most European nations and especially Scandinavian nations the cost of living in Denmark is somewhat higher than that of many other countries, it just isn't the case that living expenses in Denmark are all that different from most other developed countries.
Copenhagen, the capital of Denmark, is located in Northern Europe and is well known for the Little Mermaid by Christian Andersen, Tivoli Gardens, and being a bike-friendly city not to mention a very green city as it was awarded in 2014 with the title Copenhagen European Green Capital according to Visitcopenhagen.
What is it like living in Copenhagen?
Like every city, it has its positive and negative parts. Here are 5 pros and 5 cons of living in Copenhagen and what to expect if you plan of coming here for work or school or both.
Pros:
Free education and healthcare if you are from an EU country.
If you come from a country that is from the EU you will get free education at any University or Academy in Copenhagen and all of Denmark.
Safety.
I know there might be a lot of debate on this, but compared to most European cities, Copenhagen is a very safe city. Of course, it depends on everybody's experiences and you must always be cautious, but for a Capital, Copenhagen it`s a pretty safe city.
Wages are quite good also for student jobs.
If you are a student in Copenhagen and work a student job you have enough money to pay your rent, bills, transportation, food, and even enough to go out and have fun. Compared to other countries where this is not really possible or harder, in Copenhagen because wages are similar also for student jobs and corporate jobs you can actually live with your salary not only survive.
Danish people are awesome.
We know – it's not so easy to make Danish friends, but if you are lucky, and live in a place with Danish people, you will see that they are amazing people that will warm up to you. It is hard for them to warm up to you because they take friendship seriously, but once they do you will see how amazing, warm, and nice they are. It just takes a little to break that chain.
Hygge, The culture, Bike-friendly city Copenhagen is a bike city.
There are more bicycles than cars and even people in Copenhagen. And how can we not love Hygge? The art of getting together with friends, and family, enjoying delicious food, cosy atmosphere. I think more countries should adopt this.
Cons:
Language Barrier.
Even though jobs pay quite well in Copenhagen, it is really hard to get even a student job, especially if you don't know anyone. This is because of the Language. Because of the language barrier, it is really hard to find a job in stores ( some of them allow you to speak English), supermarkets, libraries, bars and so on. It is not impossible, but it is definitely quite harder than finding a student job in the UK for example. For a better job, it is even harder.
It is hard to find things in Copenhagen… sometimes.
Many may not know this, but sometimes it is really hard to find a large variety of products. Let me be more specific. Even though Copenhagen has a lot of good products, especially their own products which you cannot find anywhere else but in Denmark when it comes to other things, simple things like more varieties of brands, sometimes you cannot find them in Denmark so you either need to order them online or find a replacement. It is quite hard to find things you will find easily in cities like London for example where you can find anything from anywhere. It has changed now a little bit compared to a few years ago, but unless you want to get a Danish present when you are looking for a specific thing it can be quite tricky. It is definitely not something to cry about but noticed this difference compare to cities like London or even smaller cities in other countries.
The Weather.
Yes, the weather. The most talked-about subject even by Danes. It is windy, it is cold, it is rainy, and sometimes even in summer, there are no more than 13 degrees Celsius. That said there are some nice sunny days sometimes. Copenhagen has become a little warmer in summer lately, but the wind is as strong as ever. Be prepared for the wind if you go there, every day.
It is hard to make friends.
Especially Danish friends if you aren't in contact or live together with them. If you go there first to study it will be easier as you can become friends with your classmates, but if you come for a job first it will be harder because you will have a lot fewer people to identify with.
Being a foreigner.
Like in every country where you are a foreigner you will see some sort of distance and hardship and maybe sometimes even unfairness ( which happens everywhere, unfortunately)
Moving to another country and becoming familiar with all local laws and regulations can seem like a great challenge. But the fact is that there are only a few compulsory registrations you must obtain before and after you arrive in Denmark. The rules governing these depend on your nationality.
It might seem overwhelming at first, but if you start planning well in advance, and make sure to gather all the relevant information, setting up a life for yourself and your family in Denmark does not have to be difficult. If you want to know what the whole removal process looks like, please contact MyCheapRemovals customer service specialist. We are here to help you.
You can find out bout the costs of the removal using our Instant Removal Quote form for instant prices. If you moving to Denmark and your destination postcode starts with 1,2,3 or 4 we will have to check "manually" for details, but our customer service is very fast in response and provide you with the costs for small and large removals.
---