Every year thousands of Brits decide to escape the rainy UK climate and relocate to sunny Spain. However, the Brexit vote left many people uncertain about this choice. Many people are wondering if spending time in Spain, whether on holiday or in retirement is still possible, let alone moving or starting a business in Spain.
Nevertheless, Brits (and other people from countries outside of the EU) can apply for permission to reside in Spain, provided that they comply with the Spanish immigration rules. In this article, we will explain what may be necessary to move to Spain and how British citizens can obtain residency status after Brexit.
Post-Brexit removals to Spain
For those of you who have been already living in Spain for at least five years, the procedure is quite simple and straightforward. All you need to do is apply for a "permiso de residencia de larga duración", which is the Spanish equivalent of residency permission.
However, if you have not been living in Spain for five years, you will likely need to apply for a visa to stay in the country until you can to meets the condition. To apply for a visa, you need to send your application to the Spanish Consular Office within 3 months of your arrival in Spain, regardless of the intention of your stay.
Did you know that MyCheapRemovals provide
 removals to Spain services?
You can choose from 5 different volume options – from small to large removals.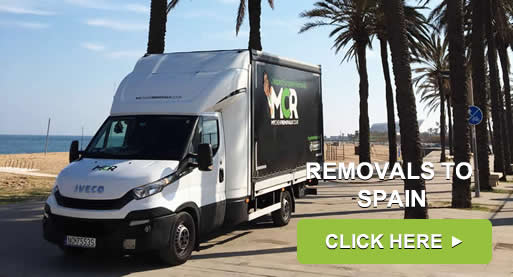 Please note that the application process may take quite a long time and it requires a few documents. Hence, it is significant to make sure you have everything you need to finalize your application. Firstly, the consular staff will consider your application, and then it will be sent to the Spanish government office nearest to the region you intend to live in.
If you successfully go through the application process, you will need to visit the consulate to collect the visa. Should your application include the right to work, you will then be advised to fill in some additional forms.
If you wish to move to Spain, you will need to fulfil several conditions. They include:
Having no criminal record,
Being registered as a resident in Spain,
Having a Spanish driving license,
Being registered for healthcare as a resident in Spain,
Proving that you can support yourself and your family (having a permanent job),
Having an income of at least €700 per month,
Proving that you have not been ejected from Spain before,
Two copies of an EX18 application form,
Original and copy of your passport,
One passport photo,
Certificate of registration (Certificado de Empadronamiento),
An N.I.E number (it applies if you own property in Spain or live in Spain as a resident)
As soon as your application is authorized, you can expect your visa to be ready within a month. For your visa to remain official, you need to arrive in Spain within three months of your application.
Moving to Spain for work
Those of you who intend to work in Spain, whether as employees or as self-employed workers, will need to suit certain requirements. Among the prerequisites that are mutual for both salaried and self-employed workers are:
Application for "permiso de residencia no lucrative" (non-profit visa),
Proof that you have a permanent income and can afford to live in Spain.
Moreover, the salaried workers will need to provide a contract of employment or other proof of employment status. Usually, as soon as you are employed by a company in Spain, the application to stay in Spain is handled by the employer.
On the other hand, if you declare yourself "self-employed" the additional documents that might be required include:
Proof that the commercial activity you are undertaking complies with Spanish rules,
Proof that you have appropriate qualifications and adequate capital to invest in your project to make it feasible,
Details of the number of employees (if any),
Business Plan,
Proof that you are healthy
If you are a non-worker, in addition to an application for residence, you will need to provide your full name and account number to demonstrate that a minimum balance has been maintained across the last year.
Moving to Spain as a Pensioner
The number of old age pensioners deciding to spend their autumn years in Spain is growing year by year. It does not have to change due to the Brexit situation. However, to go through the application process successfully, you need to meet certain conditions. They include:
Proof that you are healthy and that you do not pose any risk to the public (Covid-19, smallpox, etc.),
Proof that your monthly income amounts to €2130 and an extra €532 for each dependant,
Proof that you will be able to maintain this income for one year,
S1 form (previously E121),
European Health Insurance Card (EHIC)
Moving to Spain as a Student
Students who want to move to Spain will need to provide:
Proof of your registration in an educational establishment,
A formal declaration that you have enough funds to support yourself during your stay,
Public/private health cover
Moving to Spain after Brexit
If you are willing to move to Spain, we would be more than happy to help you! Our state-of-the-art vans travel to Spain daily, so we can handle both full relocations and part loads. Use the form on our website to receive the Instant Removal Quote and contact our Customer Service Specialist to find out more.
---