If living in a foreign country is one of your dreams, it's hard not to get overwhelmed by the expectations of what real life out there looks like. Some countries seem to be the safest places ever, however, the reality might differ or even be completely the opposite. Thus, it is always a good thing to do some previous research on the place you plan to relocate to.
Here is the essential checklist of the things you need to explore before moving to Portugal.
When we think of Portugal, most likely the first picture that appears in our imagination is the scenery of a beautiful beach and sea with crystal blue water. And it is true, Portugal is famous for its glorious natural treasures. On the other hand, this wonderful and culturally rich country has way more to offer.
Let's start with some historical details, that will provide at least a mere understanding of the Portuguese mentality, customs, and traditions.
The majority of Portuguese inhabitants are religious. To be specific, one of the recent surveys proved 81% of Portugal residents to be Catholics.
The modern society of Portugal is heavily influenced by the moral and sometimes legal principles of the Catholic church. Moreover, plenty of traditional festivals and fairs are of religious origin.
During the 15th and 16th centuries, Portugal was the pioneer of European exploration. Numerous world's first explorers were from Portugal:
Bartholomew Diaz, was the first one to sail around the southern tip of Africa (Cape of Good Hope).
the man, who discovered the sea route to India – Vasco de Gama.
Álvares Cabral, with whose efforts new lands were found and by whom they were claimed for Portugal;
the first person who circumnavigated the globe – Ferdinand Magellan.
Compared to the other European empires, Portugal's colonial empire lived the longest. It existed and was being enriched by new territories for 600 years. There was a time when this enormous state spread over 53 different countries.
Despite huge progress in worldwide discoveries and victories at sea, there are troublesome and somewhat dark parts in the history of this country, as well.
Portugal was one of the first countries, if not the first, in Europe to get involved in slave trading throughout the Atlantic and colonize the discovered territories. On the flip side, it was also the first colonial country to cease slavery.
Lisbon, one of the most ancient world cities (even older than Rome), is the capital of Portugal. And guess what? Europe's most westerly point is … yep, also Portugal.
Now, Portugal consists of mainland Portugal the Azores, and the Madeira Archipelago. Portugal's official name (República Portuguesa) refers to the country's second-largest city Porto.
The Portuguese healthcare
Here we gathered some details on the Portuguese healthcare system that will provide some explanation on how to access health insurance, hospitals, pharmacies, and dental care.
One of the most important, and sadly the most complicated, things to settle for foreigners living or working abroad, is the medical cover.
Luckily, if your destination country is Portugal, there is a great chance that you will be able to access subsidized state healthcare.
Since socialism is blossoming in Portugal, you are free to expect plenty of state systems of this country to be highly socialized, and the healthcare system is no exception. Overall, healthcare services are extremely subsidized for Portuguese citizens and are completely free for people who are under 18 and over 65 years old. Non-citizens are also eligible to access these opportunities, with certain limitations, which will be a little less subsidized.
Thus, during the residence period in Portugal, expats are granted open possibilities, to claim this country's healthcare benefits. The essential thing is only to obtain your Portuguese social security number and register as a resident.
Both public and private healthcare systems are included in the Portuguese healthcare system, which is quite successful and has a rather high average rate of local healthcare quality level.
However, in recent years, plenty of changes have been applied to these services.
Currently, there are three main coexisting systems which the Portuguese healthcare system incorporates:
the SNS or Servicio Nacional de Saude (an analogy of NHS, or National Health Service) which covers primary and secondary healthcare services (Portuguese hospitals, doctors, specialist care; community healthcare; dental care; having a baby in Portugal). It is important to mention that the SNS covers all of mainland Portugal, but the regions of the Azores and Madeira are supplied with their own healthcare systems;
social health profession-destined subsystems (special health insurance schemes available to specific occupations such as police, military, and banking).
private health insurance offers.
As was already mentioned, these great healthcare options are partly eligible for expats under the condition of legal residentship settlement.
On the other hand, even local residents, except for low-earning groups or people with special needs, have to cover a small part of certain medical services. The majority of the dental costs are usually required to be paid out of pocket, as well.
Living costs and salary level
On the one hand, comparing the average level of Western European salaries and Portuguese wages will result in a conclusion in favour of Western European countries. However, on the other hand, living in Portugal is much cheaper.
Here are the numbers:
The average salary in Portugal is €1,100 EUR per month the minimum wage is around €740 EUR per month.
The average salary in Portugal will depend on your profession, level of qualification and, of course, experience. For example, a worker with a profound area of expertise, skills and experience amount has a good chance to earn €22,500 EUR annually.
As for the minimum Portuguese salary level, it is established by the government.
For countries highly reliant on tourism, it is desirable to employ foreigners, in order to perform their services on a higher level. This fact can open various possibilities for expats, who seek jobs in Portugal. Healthcare, education and communication areas are more popular to accept outlander candidates as much as Portuguese ones.
Such cities as Lisbon, Braga and Porto are turning into tech hubs, where IT specialists are more than welcome. If your career is linked to IT or other tech-related spheres, perhaps you should check the job offers in the aforementioned locations. And if to compare the average living cost level in the UK and Portugal, this time the results are definitely in favour of the latter.
The average cost of living in Portugal (€986) is 46% less expensive than in the United Kingdom (€1820).
The most expensive countries in the world list rank Portugal 69th vs the United Kingdom 16th. However, in the list of best countries to live in the world, Portugal is ranked 41st, whereas the UK – is 6th.
The average after-tax salary is enough to cover living expenses for 1 month in Portugal, compared to 1.6 months in the United Kingdom.
In the picture noted below, we compared the living costs as well as some basic life quality indicators for Portugal and the UK.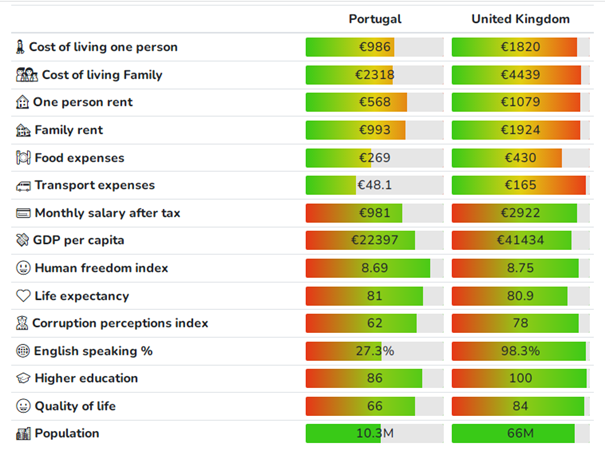 Source: https://livingcost.org/cost/portugal/united-kingdom
Culture & Cuisine
History proves that culture is a true keeper of all national treasures and the core of each country's existence. Therefore, let's check some highlights of the Portuguese culture and traditions overviewed below.
When it comes to cultural wealth, Portugal is extremely versatile and represents somewhat of a waterfall. This state is rich in numerous traditions and customs, folk music and a simple life attitude.
Speaking of the Portuguese lifestyle, people here are fatalists to the core. They believe that one's fate is impossible to escape. This tradition, principle, outlook, you name it, is called fado.
The form of national traditional singing shares the same name (fado),
and is also included in the UNESCO World Intangible Cultural Heritage. These exquisite music compositions are equally full of love, melancholy, hope and despair. Fado folk singers are accompanied by guitars, mandolins, and violins. Frequently, they are to be performed in bars, cafés, and restaurants. It is considered almost a sin, to visit Portugal and not experience this magic.
What is more interesting, is the fact that Fado is quite often present in everyday speech. For instance, people commonly use the expression oxalá, which means 'hopefully' or 'if only', from the Arabic inshallah ('god willing').
Another landmark of the country is azulejos, famously known as Portuguese tiles. These white and blue little masterpieces cover the most important buildings and monuments throughout the country and are made of ceramics 15 by 15 centimetres in size. Portuguese were taught the production technique by Flemish and Spanish craftsmen. After a while, these tiles were only used as decoration material.
As for the cuisine, Portugal's tastiest traditional sweets were created at monasteries by … accident. Yes, such treats as a nun's belly (barrigas de freira), an angel's double chin (papos de anjo), and fat from heaven (toucinho do céu), that are legendary in Portugal, were cooked by monks and nuns basically from the yolk leftovers. At that time, egg whites were used for starching and wine preservation. Thus, the yolk excesses were turned into tasty cakes and pastries.
Interesting facts about Portugal:
Portugal holds the record for the shortest-reigning monarch in the world. Crown Prince Luís Filipe was the King of Portugal for a grand total of 20 minutes after his father Carlos I was assassinated on 1 February 1908. After suffering injuries in the same attack, Luís Filipe also died and the title of king was transferred to Manuel II, the last King of Portugal.
Portugal is the oldest nation-state in Europe.
The oldest diplomatic alliance in the world is the Anglo-Portuguese Alliance (which emerged back in 1373) and is still in force today.
Portuguese is the official language of nine other countries (Angola, Brazil, Cabo Verde, East Timor, Equatorial Guinea, Guinea-Bissau, Macau, Mozambique, Sāo Tomé and Principe, as well as Goa in India) and is the sixth-most spoken first language in the world with around 220 million native speakers.
Lisbon's Livraria Bertrand is the world's oldest bookshop.
One Portuguese town made the world's largest omelette (2012).
Portugal was one of the first countries to adopt the euro.
Portugal's most famous export and national drink is port wine. The Douro Valley, one of the world's oldest established Vinho do Porto wine-producing regions, is a UNESCO World Heritage Site.
Over half of the world's cork comes from Portugal. Portugal is home to the largest cork oak forests (montados) in the world.
Portugal is a world leader in renewable energy.
 Portugal's dictatorship was the longest in Europe (1926-1974).
The earliest recorded hot air balloon ascent was in Portugal. A model hot air balloon, invented by Father Bartolomeu de Gusmão (1685-1724), ascended on 8 August 1709. The balloon took flight at the Casa da India in Terreiro do Paço.
The biggest wave ever surfed in Portugal.
Football icon Cristiano Rinaldo is Portuguese.
---